How are the students enjoying their school life?
Kevin: "I like my school CGFK because it is a friendly environment. The teachers are sociable and flexible and understand me when I have problems. But, because of my family poverty, I would prefer to be in a boarding school where I would have enough time to review my lessons."
Ladislas: "The school where I am studying is very good one, I have good teachers and very good friends. I enjoy the morning devotion where the Headmaster is urging us to behavior correctly as young people with a vision."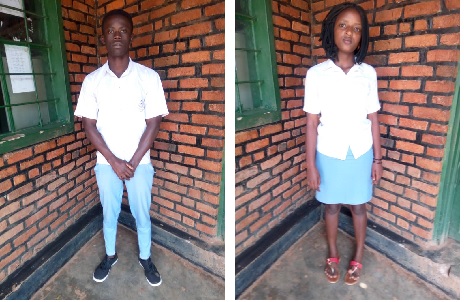 Kevin is in S5 studying Tourism with Business planning, quality customer services, basic english communication.
Ladislas is in S4 Accountancy and studying Processing in Small Business, Reconciliation of Financial transaction, Dealing with Stock, goods and services, Business creation, Processing International transactions, Computer literacy and VAT clearing process.
How are they progressing in their studies including feedback from their teachers?
According to Augustine, teacher of Kinyarwanda the two students have discipline and are progressing very well. Especially Ladislas, when he has a problem he asks.
Kevin is very focused on her studies even though sometime her home's living difficulties are affecting her emotional life and studies. Fortunately, she is a hard working lady.
Kevin challenges:
Moms is no longer able to provide enough food and basic needs from home. Sometime this is affecting her studies. Mom is doing small business and Kevin is suppose to go back home from school to deal with house work: cleaning, cooking, washing dishes and clothes for her sisters brothers. She doesn't have enough time to concentrate on her studies as she would wish. The long distance she has to make every day from and to home is very hard.
Ladislas Challenges:
Lack of a laptop to be able to practice what they learn in accountancy. Also home works which require research are becoming difficult for him to make. The long distance from to Home is a big challenge.
Extra-curriculum activities:
Sports, Participating in the celebration of the International Day of Peace, The National Commemoration of Genocide in Rwanda, The in school debate on fighting against genocide ideology towars peace and reconciliation, Peer mediation clubs, Anti corruption clubs, Anti drug abuse clubs, Morning Devotion (worship and sharing).